India, 10 August 2020 : As part of its 'World Solidarity Programme', Societe Generale, with the mobilization of all its teams in India, has committed to donate over 50 million Indian rupees (650,000 euros) in support of those affected by the Covid-19 pandemic in major cities: Delhi, Mumbai, Bangalore and Chennai. 
Since the beginning of the health crisis, Societe Generale has provided exceptional support in different countries of the world, namely in France and Africa.
In India, Societe Generale has partnered with three of its currently supported NGOs – Action Against Hunger, Samarthanam Trust for the Disabled and VIDYA Integrated Development for Youth and Adults – to assist their programmes specifically aiming at supporting those in need during the Covid crisis.
The funds will support front line health professionals and hospitals to fight the virus, and also help vulnerable communities by providing them with essential hygiene and nutrition needs.
More specifically, the programmes are focusing on:
supporting health professionals, community health and welfare workers and hospitals with medical gear to safeguard their health and protect them from contracting infections;
giving essential items and creating awareness on safety through informational material delivered via phone and mobile vehicles making public announcements;
providing those impacted by loss of earnings including migrant and daily wage workers, people with disabilities, pregnant women and elderly population with necessities;
helping with mental wellness and counselling to families.
The importance of this financial support demonstrates the spirit and commitment of over 8,000 staff, joining Societe Generale and its Indian entities (Societe Generale Bank in Mumbai and Delhi, Societe Generale Securities India Pvt Ltd in Mumbai and Societe Generale Global Solution Centre in Bangalore and Chennai) to raise the total amount donated.
Antoine Castel, Chief Executive and Chief Country Officer of India, states: "As a Group, we are fully engaged and committed to our clients, partner associations and employees. Along with our NGO partners, we unite to alleviate the hardships of the frontline health professionals and the vulnerable communities who struggle during these times. Our gratitude also goes towards each person in our partner organisations who are on the ground implementing our programs to support those affected by this pandemic."
Sunil Shah, CEO & Global Head, Societe Generale Global Solution Centre and Global Head, Societe Generale European Business Services, says: "This crisis has had a significant impact on vulnerable sections of society. Societe Generale's commitment to CSR has always been strong, and our employees are active in volunteering and contributing to society. In this relief program our employees joined in mobilizing to raise funds and added to the contribution of the company. Through these efforts and our partnership with NGOs, we hope to play a small role in alleviating the situation in the country."
Everyone wishing to join this solidarity initiative can support the three Indian charities and find more information on our website.
More from Editor Picks
---
Mumbai, 24th September 2020: Singer and Performer Simantinee Roy pays tribute to Rabindranath Tagore through her version of Rabindra Sangeet 'Amaro Porano …
The smart TVs on offer include advanced technologies such as micro dimming, hands-free voice control, HDR and HDR Pro, and …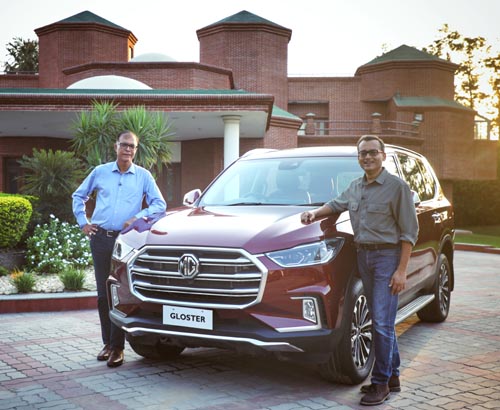 Pre-bookings for the Premium SUV have now commenced with a price of Rs. 100,000 Mumbai, September 24, 2020: MG Motor India has …
Editor Picks
---