By Aamar Deo Singh, Head Advisory, Angel Broking Ltd
After its strong bull run that continued for four days, the market ended marginally lower on May 11. Sensex closed 340.60 points, or 0.69%, below its yesterday's close at 49,161.81 points while Nifty was down by 0.61% or 91.60 points at 14,850.80 points. PSU Banks and energy companies extended support to the market as respective indices were up by a percent each. FMCG, ITeS, Metal, and Pharma, however, overpowered the price action with heavy selling. Both midcap and smallcap segments bucked the broader trend and ended with gains.
Punjab National Bank:
PNB fell by almost a percent (0.84%) following its qualified institutional placement offer yesterday. The bank envisions raising Rs. 1,800 crores via institutional investors with its offer. The stock closed at Rs. 35.30 at NSE.
NXTDigital:
A strong rally was seen in Hinduja Group's flagship media business wing as it entered into an infrastructure-sharing agreement with multi-system operator Siti Networks. As a part of the partnership, Siti Networks will use NXTDigital's Headend-in-the-Sky infrastructure to extend quality services across semi-urban and rural geographies. NXTDigital will be entitled to a service fee for relevant usage. The stock traded at Rs. 511 at NSE, 11.01% higher than its yesterday's close.
HFCL:
HFCL reported a more than 14-fold increase in its consolidated profit in Q4FY21 as compared to the year-ago period. The company's consolidated profit stood at Rs. 84.67 crores in its latest quarter vis-à-vis Rs. 5.78 crores in Q4FY20. HFCL's revenue simultaneously increased from Rs. 663.19 crores to Rs. 1,391.4 crores YoY. HFCL's share was up by 7.10% at Rs. 36.95.
Chambal Fertilisers:
Chambal Fertilisers experienced 3.38% gains on Tuesday on the back of higher profits. The company's profit was up from Rs. 197.55 crores in Q4FY2020 to Rs. 447.89 crores in Q4FY21. However, Chambal Fertilisers has reported a fall in its revenues from Rs. 1,969.09 crores to Rs. 1,640.76 crores YoY. The scrip closed at Rs. 231.15, adding 7.55 points by the closing bell.
HSIL:
HSIL's share prices hit the upper circuit after an around 10-fold increase in its net profits in a year. The sanitaryware and packaging products maker reported its net profit increasing from Rs. 3.38 crores in Q4FY20 to Rs. 33.02 crores in Q4FY21. Its board also recommended a dividend of 200% for FY2021, which turns out to be Rs. 4 per equity share of Rs. 2. The stock closed at Rs. 207.45.
Granules India:
Granules India closed 1.37% lower at Rs. 358.95 on Tuesday despite its net profit increasing 38.2% YoY. The company's net profit increased from Rs. 92.3 crores to Rs. 127.6 crores. There was a parallel growth in its revenues as they increased by 33.2%. The company's EBITDA doubled meanwhile.
Sun Pharma:
Despite bear overpowering the pharmaceutical segment, Sun Pharma ended in green with positive news coming from Eli Lilly and Co. In the wake of a deadly second surge in India, the US drugmaker issued royalty-free, non-exclusive voluntary licenses to Sun Pharma and others for the manufacturing of the baricitinib drug. Sun Pharma share price zoomed by 1.40% and closed at Rs. 708.
You might also like
---
More from Business
---
The Tata Ace continues its 16-year legacy as the most successful commercial vehicle in the country   Mumbai, 18 June, 2021: Commemorating 16 …
Charging no extra cost, the feature will empower new age local business enablers, hyperlocal business aggregators, and individual hyperlocal applications …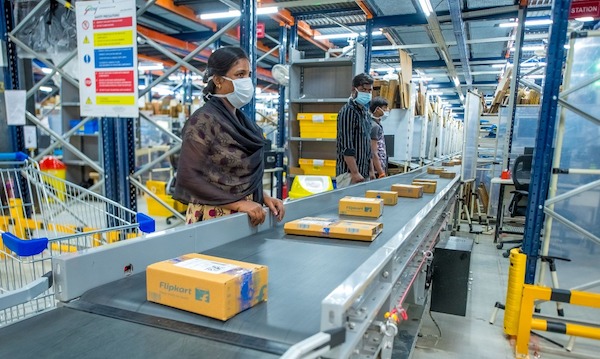 2.2 lakh square feet fulfillment center in Dankuni will create close to 3,500 direct jobs Will help support the …
Editor Picks
---