By Aamar Deo Singh, Head Advisory, Angel Broking Ltd
Benchmark indices halted the 6-days winning streak and ended marginally lower in today's trading session. Profit-booking in auto, metal, and pharma stocks dragged the indices.
Nifty went down by 0.04% or 6.50 points and closed above the 15,000-mark at 15,109.30 points, while S&P BSE Sensex fell by 0.04% or 19.69 points and closed at 51,329.08 points. Around 1,279 shares advanced, 1,634 shares declined, whereas 184 shares remained unchanged.
M&M (3.16%), Tata Motors (3.01%), JSW Steel (2.31%), Bajaj Auto (1.83%), and ITC (1.84%) were among top Nifty losers. In contrast, SBI Life (3.95%), Asian Paints (3.77%), HDFC Life (3.63%), ONGC (1.51%), and Titan Company (1.32%) were among the top Nifty gainers.
On the sectoral front, Nifty Auto, Nifty Pharma, Nifty Media, Nifty FMCG, and Nifty IT ended in the red. BSE Midcap and BSE Smallcap went down by 0.18% and 0.26%, respectively.
Berger Paints India Ltd.
Berger Paints reported its Q3 results, following which the firm's stocks traded higher by 2.13% at Rs. 768.00. The firm's consolidated net profit rose by 50.7% and stood at Rs. 274.8 crores while the company's revenue was up by 24.9% and stood at Rs. 2118.2 crores.
Lupin Ltd.
Lupin Limited received the USFDA approval for its Tavaborole Topical Solution. However, the firm's stocks declined by 1.32% and traded at Rs. 1,058.40.
IDBI Bank Ltd.
The bank's stocks rose by 2.55% and traded at Rs. 30.20 after the bank announced that it will consider a proposal for setting off the accumulated losses of the bank as of April 1, 2021.
Kaveri Seed Company Ltd. 
The company reported a 10.4% jump in its net profit for the quarter ended December'20, whereas the firm's revenue was down by 2.8% and stood at Rs.118.5 crore. The company's stocks went down by 3.18% and traded at Rs.543.60.
Muthoot Finance Limited
Muthoot Finance's stocks rose by 1.41% and traded at Rs. 1,193.15 after the firm reported a net profit of Rs. 991.4 crores. The firm's revenue surged by 19.1% at Rs. 2765 crores.
Future Retail Ltd.
Future Retail's stocks surged by 9.97% and traded at Rs. 80.50 after the Delhi High Court lifted the Status Quo order. As per the order issued by the court, Amazon had no reason to seek a status quo order, when it wasn't interested in the deal.
Indian Rupee
Indian rupee ended higher by 8 paise at Rs.72.88 against the U.S. Dollar amid profit booking experienced in the domestic markets.
Mixed Global Market Cues
Global Markets ended mixed where European indices ended in the red while other major indices ended in the green. Nikkei 225 rose by 0.40%, Hang Seng rose by 0.53%, while FTSE 100 went down by 0.16% and FTSE MIB declined by 0.45%.
You might also like
---
More from Business
---
The Tata Ace continues its 16-year legacy as the most successful commercial vehicle in the country   Mumbai, 18 June, 2021: Commemorating 16 …
Charging no extra cost, the feature will empower new age local business enablers, hyperlocal business aggregators, and individual hyperlocal applications …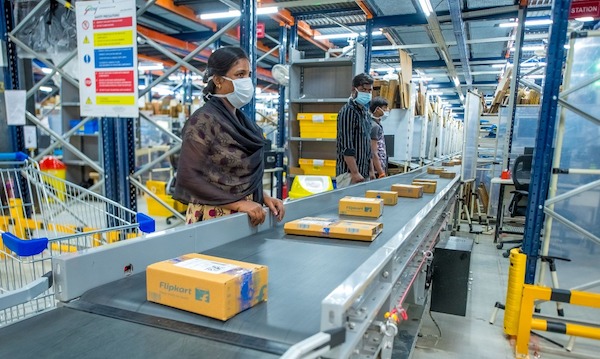 2.2 lakh square feet fulfillment center in Dankuni will create close to 3,500 direct jobs Will help support the …
Editor Picks
---